I've got the name of that UK guy who does the 22November63 website.
JEREMY BOJCZUK
Hmm. What kind of name is Bojczuk? It sounds Slavic, like maybe Polish, Czech, Georgian or Russian.
He is listed as the author of the book, which I presume is just the website in book form. They even provide a bio of him, but it's pure bull. I'll put it up. Basically, this is his way of telling you:
"Hey, you want to know about me? Well, fuck you, mo-fo."
Jeremy Bojczuk
Biography
At the last count, there were four Jeremy Bojczuks in the English–speaking world. This website is about this one, not the other three.
This Jeremy Bojczuk was born more than a decade ago. When last heard of, he was still alive.
Educational History and Achievements
Jeremy Bojczuk was educated from an early age. He attended educational institutions, and has taught himself various things, including the skills necessary to build this website.
Intellectual and Sporting Achievements
Jeremy Bojczuk
has achieved things: intellectual, sporting and otherwise.
Successes and Failures
Jeremy Bojczuk has succeeded in doing some things, but has so far failed to do others, such as scoring a hat–trick in the FA Cup final or winning an Olympic gold medal.
Travels
He has travelled widely, on foot, on a bicycle, on a motorcycle, in an airliner, in a light aircraft, in a helicopter, in a single–decker bus, in a double–decker bus, in a car, in a train, in a car inside a train, in a single–decker underground train, in a double–decker underground train, in a tram, on a ferry, in a rowing boat, and in a hovercraft.
He has not yet travelled on a horse, on an ostrich, on a surfboard, on a unicycle, in a chariot, or on a pogo stick.
Employment History
Jeremy Bojczuk has been employed. When last heard of, he was associated with
Lab 99 Web Design
.
Wise Sayings
Jeremy Bojczuk has uttered several wise sayings and pithy
bons mots
, such as: "If you can't stand the heat, don't put all your chickens in one kettle of fish."
Interests and Hobbies
Jeremy Bojczuk has had interests and hobbies.
Personal Details
He is aware that once you place your personal details online, you lose control of them. Every piece of information you place online is stored on computers owned by other people. These other people, mostly acting together under the rules of social institutions, have the power to retain, delete, copy, share, alter and combine those pieces of information, and in almost every case there is nothing you can do about it. As the saying goes: you can't put the toothpaste back in the tube.
Nevertheless, the following personal details have been made available, although readers are warned that at least one of them is untrue:
In 2003, Jeremy Bojczuk was briefly Devon and Cornwall Disco–Dancing Champion, until he was obliged to resign because of a technical infringement, an episode now known to disco–dancing enthusiasts as Medalliongate.
He has visited the Grand Canyon, or at least has posed in front of a convincing backdrop.
Jeremy Bojczuk lives on a farm in Wales with his boyfriend and their three labradors.
He once spent four days in a coma.
For the last few years before his retirement in 1997, Jeremy Bojczuk worked as a lighthouse keeper off the coast of Norway.
In November 2013 he gave an interview on French television.
In his spare time, Jeremy Bojczuk enjoys banger racing and playing the lute in an early–music consort.
His first job after leaving school in 2005 was as a door–to–door harp salesman.
Jeremy Bojczuk can occasionally be found on a Saturday evening in The Plough on Little Russell Street in London, near the British Museum, or a short walk away in the Queen's Head just off Gray's Inn Road.
So, is that his real picture? Who knows. Is
Jeremy Bojczuk even his real name? Who knows that either.
Also, the book's publisher is Boxgrove Publishing, but when you go to their website, 22November63 is the only book they publish. So, that tells me that it's not a real company but rather a DBA. The book is essentially self-published.
Boxgrove Publishing
is pleased to announce the publication of:
22 November 1963:
A Brief Guide to the JFK Assassination
A readable, objective account of the central issues in the ever–controversial JFK assassination. The book includes detailed discussions of several important topics, and is fully referenced, with more than 400 footnotes. The ebook versions include more than 500 links to primary source documents.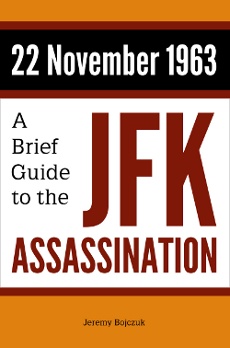 The book is published in three formats:
Paperback
193 + vii pages.
8.5″ x 5.5″ (approx. 21.5 cm x 14 cm).
ISBN: 978–0–9931003–0–7.
Amazon ebook
For Kindle devices and software.
ISBN: 978–0–9931003–2–1.
ASIN: B00OZYIV0S.
Standard ebook
In EPUB format, for other devices and software, including Nook, Kobo, Apple and Sony devices.
ISBN: 978–0–9931003–1–4.
Recommended Prices
The paperback and Kindle versions are available from Amazon. The EPUB version will be available from
the book's website
shortly.
Please note that these are our recommended prices. Amazon may charge slightly more or less than these prices.
Contact Boxgrove Publishing
Email: books–at–boxgrovepublishing–dot–co–dot–uk
Or use this form, filling in every box:


Then lastly, the design of the book and 22November63 website are attributed to a web design company in England called lab99. I presume they are a real company.